November 9, 2016, SerivceSource Delaware hosted its 24th Annual Founders Award Dinner at the Chase Center on the Riverfront. ServiceSource recognized its standout employees of the year as well as community partners. Here, ServiceSource Board Chair Paul Thieberger is pictured with community placement employee of the year Nick Stokes; US Senator Tom Carper, President and CEO Janet Samuelson; and Executive Director/Senior Vice President Dennis Dapolito. Nick has a great job at Acme Markets and several of his coworkers joined him last night to celebrate his achievement.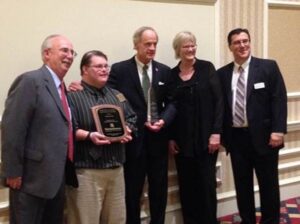 U.S. Senator Thomas Carper was the recipient of ServiceSource Delaware's 2016 Founders Award. In 2014 Senator Carper was recognized as an AbilityOne® Congressional Champion because of his work on behalf of people with significant disabilities. He has been a staunch supporter of employment and training programs benefitting all citizens with disabilities throughout his career in public service at the federal and state level and has maintained a strong partnership with ServiceSource Delaware.
Senator Carper serves as ranking member, or the highest ranking Democrat, on the Homeland Security and Governmental Affairs Committee. This Senate Committee has oversight to the AbilityOne program. Senator Carper's many accomplishments have earned him state-wide as well as national acclaim and respect. He is a leader in Delaware well deserving of ServiceSource Delaware's 2016 Founders Award.
Service Excellence Videos
ServiceSource Delaware 2016 AbilityOne Employee of the Year
ServiceSource Delaware 2016 Community Placement Employee of the Year