Accreditation and Recognition
CARF Accreditation
CARF International is an independent, nonprofit organization that surveys and accredits health and human services providers worldwide. A service or program that is CARF accredited has passed an in-depth on-site review and has demonstrated substantial conformance to internationally recognized standards for quality.
ServiceSource is Accredited by CARF for the Following Programs:
Community Employment Services: Employment Supports
Community Employment Services: Job Development
Comprehensive Vocational Evaluation Services (Florida)
Community Integration (Virginia)
Employment Planning Services
Employment Skills Training Services
Organizational Employment Services
What Does CARF Accreditation Mean?
Our accreditation is a public commitment that we strive to:
Involve persons served and their families in their service planning.
Respect individual cultural preferences.
Be accountable to our funding sources, referral agencies, and the community at large.
Address health and safety concerns, such as building safety and emergency preparedness.
Maintain management practices that are efficient, cost-effective, and based on outcomes and consumer satisfaction.
For more information about CARF International, the standards, or the survey process, visit www.carf.org.
Awards
Cigna Well-Being Award
ServiceSource is proud to announce that we received the Cigna Well-Being Award for Honorable Culture of Well-Being in 2019 and most recently, 2020. This is a distinct honor for us, as we make a difference in the health and well-being of our employees.
Martha Glennan Disability Inclusion and Equity Award

On behalf of the Fairfax-Area Disability Services Board, ServiceSource Virginia's Senior Services team is a proud recipient of a Martha Glennan Disability Inclusion and Equality Award for 2020. The team was recognized for their commitment to enhancing the lives of community members with disabilities through the Virtual Center for Active Adults (VCAA). For more information, click here.
HIRE Vets Medallion Program Awards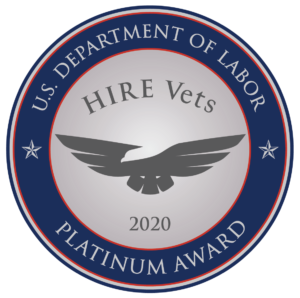 ServiceSource Virginia, Delaware and North Carolina are honored to be recognized by The U.S. Department of Labor as recipients of the 2020 HIRE Vets Medallion Program Award.
ServiceSource Virginia received the Gold Medallion Award for Large employers and ServiceSource Delaware and North Carolina received the Platinum Medallion Award for Medium employers. The award recognizes our commitment to hire and retain veterans, establish employee development programs and improve veteran retention.
For more information on our award, click here.
AMVETS Veteran-Friendly Employer of the Year
ServiceSource was recognized as the AMVETS Veteran-Friendly Employer of the Year (medium company).  This award recognizes employers who make a commitment to include veterans in their organizational culture through both their hiring practices and community involvement. On December 31, 2018, we had 194 veteran employees.

Phillip A. Connelly Award
Bldg 3-5103 Dining Facility, Sustainment Brigade, 82nd Airborne Division, won the Military Garrison category in the 51st Philip A. Connelly Awards program For Excellence in Army Food Service.
2019 Greater Washington Good Business Awards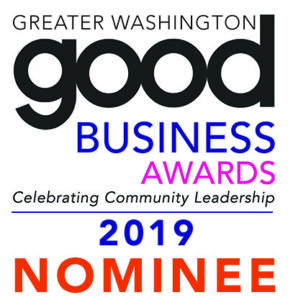 ServiceSource Virginia is excited to announce that we have been nominated for Non-Profit of the Year in the Greater Washington Good Business Awards.  ​Presented by the Northern Virginia Chamber of Commerce, the Greater Washington Good Business Awards honor and celebrate the leadership of individuals, businesses, and non-profits that serve as powerful champions for good in our community.
2017 Virginia Network of Private Providers Leadership Award
October 18, 2017, Paul Wexler, Vice President of Specialty Services received the 2017 Virginia Network of Private Providers Leadership Award.
Paul has worked in the field of developmental disabilities (DD) for over 45 years. He became the Executive Director of Central Fairfax Services, Inc. (CFS) in 1986, a small day support program for adults with DD, located in Annandale, VA. Paul demonstrated strong leadership as he helped to guide CFS from a small agency to a major resource for individuals with multiple physical, medical and behavioral challenges in Northern Virginia. In 2010, he led the process as CFS affiliated with ServiceSource, in an effort to ensure long term sustainability. Paul's compassion, commitment and guidance has helped to shape the service system in positive ways, to the benefit of all.
2016 MSMA Metro Washington DC Corporate Member of the Year
ServiceSource was named the Corporate Member of the Year for being an exceptionally supportive member of the Metro Washington DC Chapter utilizing the educational opportunities of MSMA for their managers and key employees.
2015 Champions of Disability Employment
Sylvia McGill Jones, ServiceSource Virginia Rehabilitation Coordinator (left) and ReCharde Johnson, Rehabilitation Recruiter Assistant accepted a Champions of Disability Employment award on behalf of the ServiceSource Virginia Rehabilitation Department from the Virginia Department for Aging and Rehabilitative Services in Manassas, Virginia.
2015 Greater Washington's Healthiest Employers
The Washington Business Journal named ServiceSource one of the healthiest employers of 2015 in the Washington Metro Area. Companies were scored in six categories: Leadership commitment, communication and markets, foundational components, programming and interventions, strategic planning, and reporting and analysis.
2014 We Serve Award
Our Warrior Bridge program received a We Serve Award in the "Crisis" category. Award winners were chosen by veterans/family members  who vote for service providers they believe offer the most tangible, holistic and compassionate services to the military community.
Chairperson's Award for Leadership
In 2014, ServiceSource's former President and CEO, Janet Samuelson, accepted  the highest award a nonprofit agency can receive from the U.S. AbilityOne Commission, recognizing national leadership in or on behalf of the AbilityOne Program resulting in enhanced employment opportunities for persons with disabilities.
Performance Excellence in Hiring Veterans With Disabilities
ServiceSource's Warrior Bridge Program was recognized for outstanding outreach and support in recruiting, hiring, and training veterans with disabilities at the 2014 AbilityOne/SourceAmerica National Training and Achievement Conference in San Diego, CA.