A unique perspective from long-time donors, Bob and Linda Dupwe in recognition of ServiceSource Virginia's 50-Year Anniversary.
Introduction
2021 is a significant year for ServiceSource Virginia as we celebrate our 50th anniversary of creating inclusive communities. To promote this milestone, the ServiceSource Foundation invited Bob and Linda Dupwe, who are both monthly and long-time donors to the ServiceSource Foundation to write an article for our blog.  Bob and Linda donate to the Foundation because their son Tim has been enrolled in our Long-Term Community Integration Services program since 1989.
Why We Give
Written by Bob and Linda Dupwe
Our inspiration to become monthly donors to the ServiceSource Foundation stems from a shared vision we have with the organization.
We donate to help improve the lives of people with disabilities and to advocate for equal opportunity for individuals who have disabilities in our own community. ServiceSource embodies these values with the same focus. They use the financial support they receive in a responsible manner that is supportive of their mission, which is at the core of everything they do.
While writing this blog, we were asked why the ServiceSource mission is so important to us – which is easy. ServiceSource Virginia's Long-Term Community Integration Services (LTCIS) program has provided our son Tim, with incredible opportunities for growth both socially and intellectually.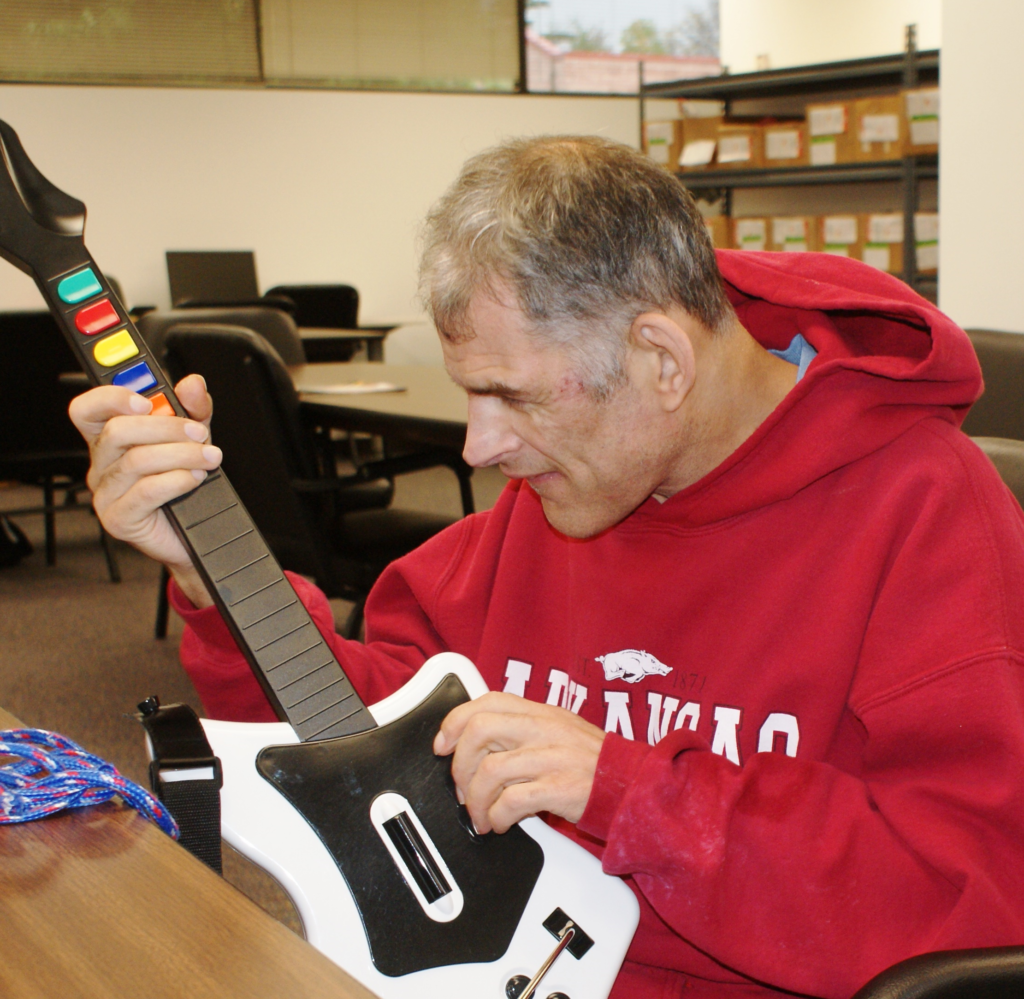 Tim's favorite activity through the LTCIS program is music therapy.
Hundreds of individuals served through the LTCIS program receive music, dance, yoga and art therapies which is funded through generous donations to the ServiceSource Foundation. 
Tim is 57 and has a developmental disability called Cri-du-Chat, which affects his ability for self-care in many ways. However, when Tim began attending ServiceSource's LTCIS program in 1989, we quickly saw that the programs contributed greatly to his quality of life. To this day, Tim absolutely loves being part of the ServiceSource family and participating in the activities that ServiceSource offers and that are funded by the ServiceSource Foundation.   
Through LTCIS, Tim and others like him, have the opportunity to develop skills through person-centered activities that are organized with strategic attention to fostering community inclusion. As a family, we've also received support through the Family Support Services program, which connects families and caregivers to important resources in the local community. The ServiceSource Foundation has contributed more than $2.5 million in support of these two critical programs alone. Other funding received is used to support yoga, dance, music and art therapy, all programs that Tim and others enjoy. 
As Tim's parents, we do as much as we can to keep Tim happy and active. Becoming monthly donors has made it easy for us to contribute to the programs Tim loves and that we wholeheartedly support. We also understand how important it is for ServiceSource to plan and budget its resources so that we can have strong programs for our son and others. That is why we are monthly donors.  We want ServiceSource to be around for at least another 50 years!