Meet Myron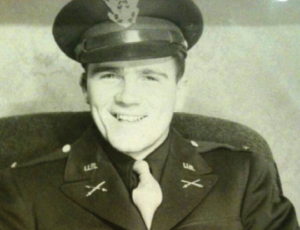 Born December 5, 1919 to Ukrainian immigrants and living through the depression, Myron grew up hard working, frugal, and grateful. He was the first and only person in his family to attend college. He attended Ohio State University and played football there for two years when World War 2 broke out. Myron enlisted in the United States Army and served in the Philippines, moving up in rank to Captain.
After the war, Myron returned to college to complete his degree in business. He worked as a purchasing agent for Shields Midwestern Rubber Company throughout his entire career. Myron married the love of his life, Florence Berger Pasz. Together, they had four children and five grandchildren. They lived and raised their family in Cleveland, Ohio.
Myron loved aviation and learned to fly planes as a hobby. He was the ultimate do-it-yourselfer. Self-taught through books and observation, Myron learned basic plumbing, framing, electrical, and automotive skills that were sufficient to remodel his home and antique cars. He loved to work with his hands and was a great cook. He took up frame and stain glass making, but his favorite past time was football. Later in life, Myron enjoyed vacationing in Venice, Florida where he would host his family and make the best breakfasts around town. Myron lived a long and happy life to the age of 90. His greatest sorrow was the loss of his love, his wife Florence, to cancer, when she was just 58.
Myron was selfless, humble, and dependable. He always put his family and country first. Myron life was the embodiment of the American Dream and is an example of what future generations should strive for.
In recognition of Myron's service to his country and his love and devotion for his family; his family has established The Myron J. Pasz Memorial Scholarship, as part of ServiceSource's Community Assistance Endowment, to support Veterans and their immediate family members. The Community Assistance Endowment provides individual assistance support grants to people with disabilities, their family members, or caretakers, to help remove barriers so that individuals can thrive.
If you would like to make a contribution to the Myron J. Pasz Memorial Scholarship, visit www.servicesource.org/donate. Please note Pasz in the memo line or designation comment box.
This scholarship is made possible by the Community Assistance Endowment through the ServiceSource Foundation. To learn more, visit www.servicesource.org/community-assistance-endowment/