Meet Cathy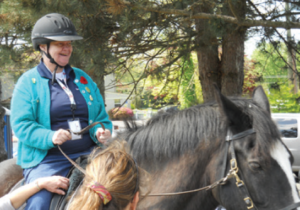 Catherine (Cathy) Wright was a 30-year member of ServiceSource's Long Term Community Integration Services Program of Northern Virginia (which had previously been Central Fairfax Services prior to their affiliation with ServiceSource in 2010). Her parents, Ella and Herbert Wright, were long-time volunteers and donors to Central Fairfax Services. Cathy's brother, Fred Wright, continued to support ServiceSource and fondly remembers all the stories that Cathy shared with him about her friends at ServiceSource. Cathy would often introduce her many friends to her brother, by leading with "my friend…" followed by their name and a personal story of their friendship.
Cathy passed away in 2016 and in her memory, her brother's family has established the Cathy Wright "My Friend" Memorial Scholarship, as part of the ServiceSource Foundation's Community Assistance Endowment. This endowed scholarship is directed so that current and future participants of the Community Integration Services program can have the resources to enjoy many of the activities that Cathy so loved doing with her friends.
The Cathy Wright "My Friend" Memorial Scholarship will be used to fund special activities within the program and/or activities that are out in the community. These activities may include, but not be limited to, supporting community-based volunteer activities or work experiences such as delivering Meals on Wheels, volunteering at local animal shelters, volunteering in local workplaces or civic clubs such as the Lions Club or Rotary. Program activities may include therapeutic horseback riding, visiting and supporting local park activities, advocating on behalf of individuals who have disabilities with elected officials, or providing resources to other participants who experience a time of need.
Those who knew Cathy, understand the joy she experienced in the everyday activities she experienced with her friends. Cathy's family hopes that this memorial scholarship will allow others who have disabilities to enjoy similarly wonderful experiences that are best when shared among friends.
If you would like to make a contribution to the Cathy Wright "My Friend" Memorial Scholarship, visit www.servicesource.org/donate. Please note Wright in the memo line or designation comment box.
This scholarship is made possible by the Community Assistance Endowment through the ServiceSource Foundation. To learn more, visit www.servicesource.org/community-assistance-endowment/