ServiceSource is celebrating the recent transition of five individuals into federal employment with the U.S. Department of Agriculture (USDA). All transitioning were previously employed by ServiceSource, through the AbilityOne Program, on a Shipping and Receiving contract at the USDA Headquarters South Building in Washington, D.C. 
In September, the USDA shifted its operational strategy, deciding to self-perform the work with Government employees. Due to the high caliber of work performed by the ServiceSource employees, the USDA opted to bring them on board directly. Together, we worked to support the transition of the employees to the government's payroll. 
This outcome demonstrates the commitment of the USDA to employ individuals with disabilities and to incorporate inclusive hiring practices. It is also a significant representation of the goal of the AbilityOne Program – to provide individuals with the supports necessary to gain experience, and the opportunity for upward mobility and in this case to secure permanent employment in the federal government.
"We look forward to working with the USDA to identify new opportunities to provide employment for people with disabilities and support the transition of perhaps another group of employees," said Dennis Dapolito, Executive Vice President, Regional Operations.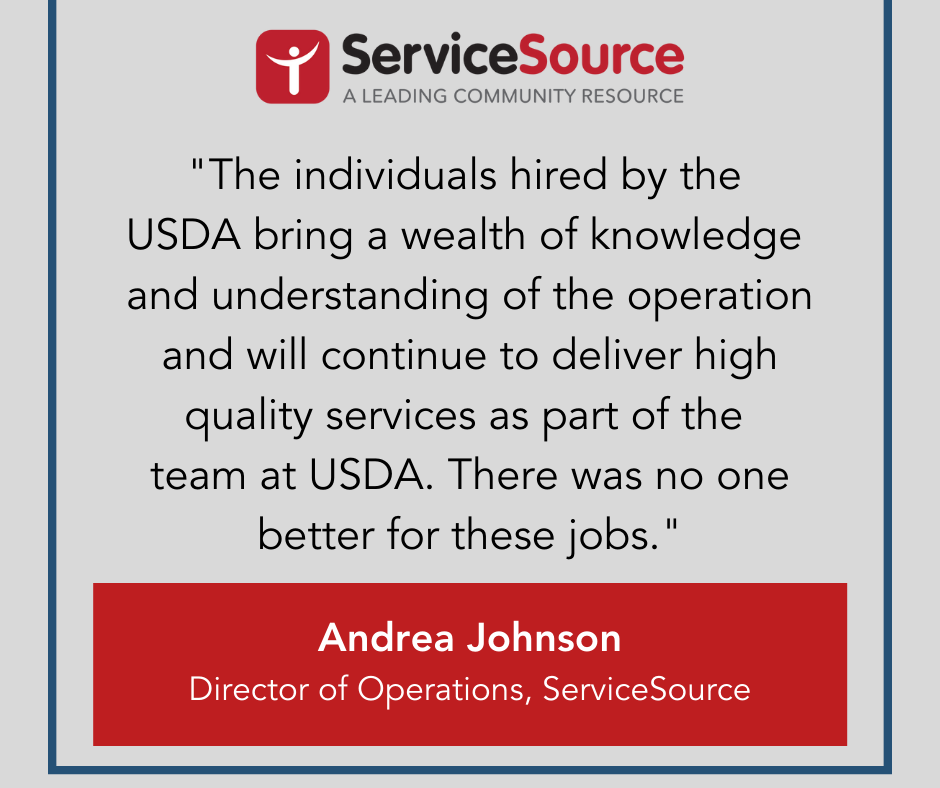 About AbilityOne
In 1938, Congress created the Wagner-O'Day Act, which enabled nonprofits that served people who were blind to sell products to the federal government. The Act was amended in 1971 to include people with other significant disabilities. This expanded Javits-Wagner-O'Day (JWOD) Act serves as the basis for the federal AbilityOne Program.