About the Program
Get a Certificate! Get Noticed! Get a Rewarding Job!
The Opportunity Calls program is a customer service and contact center program for individuals seeking dynamic, real-world job training leading to successful competitive employment in customer service. The Opportunity Calls program is designed specifically to serve individuals with disabilities or others with barriers to employment. 
Program Highlights
Industry standards for communication
Individualized attention
Live call training scenarios
Online tools, practical application and coursework material
Pre- and Post-Skills Testing
Certificates for module and course completion
Support with job search and job placement *Placement is not guaranteed
Core Competency Trainings
Business Technology
Knowledge of modern office equipment
Ability to operate a personal computer
Ability to maintain records and files
Competency in managing multiple computer screens and applications
Understanding of Microsoft Office applications, including Word, Excel
and Outlook.
Minor Hardware Maintenance and Troubleshooting
Essential Workplace Standards
Professional expectations
Reliability
Interpersonal and Business Communications
Telework Business etiquette
Organizational skills
Operational Policies and Procedures
Contact Center Operations Procedures
Telework Specific Policies
Attendance Policy
File Transfer/Storage Policy
Remote Office Policy
Login/Logout Procedures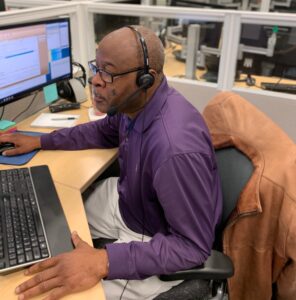 General Customer Service and Contact Center Knowledge and Skills
Interpersonal/human relations skills
Telephone etiquette skills
Confidentiality Training
Ability to follow established systems and procedures
Customer escalation policies and processes
Ability to follow customer scripts
Industry Best Practices and Service Levels
Creating Memorable interactions building customer Loyalty
Average Speed to Answer (ASA)/ First Contact resolution (FCR)
Ensuring the accuracy of data entry into the application software
Memorable call performance
Meeting minimum "talk time" percentages and other metrics
Quality performance standards
Training Dates
Training is held Monday through Friday from 9:00 AM – 3:00 PM
January 10, 2022 – February 18, 2022
March 7, 2022 – April 15, 2022
May 9, 2022 – June 17, 2022
September 6, 2022 – October 14, 2022
While the training above will be held remotely, students may have to meet with instructors at the location below. This location has convenient, onsite parking or is easily accessible for public transportation.
Pricing
$2,995 (or $499 per week)
Includes Business Technology and Workplace Standards Training (2 weeks)
Includes Customer Service and Contact Center Skills Training (4 weeks)
Location
2735 Whitney Road
Clearwater, Florida 33760
727-600-8944
Licensed by the Florida Commissions for Independent Education (License #6483)