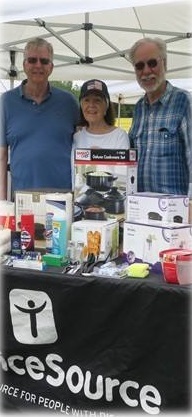 ServiceSource Participation
ServiceSource Florida joined the 2018 charitable beneficiaries of the Sun Coast Osteopathic Foundation in celebration of its 7th Annual Spring Health Fling at Largo Central Park.
The Foundation is a charter member of the Veterans Mall, funding the purchase of home-starter kits for six consecutive years. Its founder, Dr. Alan J. Snider, D. O., and wife Charlotte, were also charter members of the Abilities Guild. A community event celebrating families and promoting healthy lifestyles, the Spring Fling afforded us a great opportunity to feature our services to fairgoers and other Foundation recipients.
Representing ServiceSource and Warrior Bridge were Veterans Mall volunteers Virginia Meyer, Jake Mowrey, and Dan Mettee , along with Florida Program Development Executive Frank De Lucia. Among the Sun Coast Osteopathic Foundation board members and staff were Sharman Eicher, Melody Hunter, and Executive Director Audrey Wood.
Many thanks to the Sun Coast Osteopathic Foundation's ongoing faith in our ability to improve veterans' lives and homes!