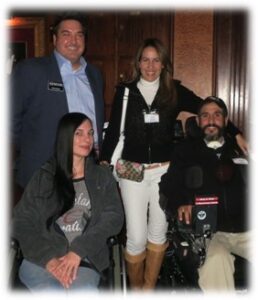 At its annual Holiday Luncheon, Bayside Solutions (BSI) CEO Dan Doyle presented ServiceSource with a $15,000 BSI Wounded Hero Project Grant in honor of Shannon Richmond, who served in the U. S. Army and was paralyzed from the waist down in a random, drive-by shooting two years ago in Cleveland, Ohio.
Each year BSI partners with ServiceSource Warrior Bridge to give the 'gift of mobility' to a service member who lost their use of their limbs.
"One visit with Shannon," said Doyle, "convinced Team BSI that her plight and determination made her an ideal candidate."
Shot five times from behind by a yet unidentified assailant, Richmond wasn't expected to live.
"Doctors told me I'd never walk again," she recalled, "but I didn't accept that."
A mother of two and a fighter, she relocated to Florida and found her best rehabilitation option at Stay In Step Spinal Cord Injury Recovery Center —a Tampa spinal-cord injury recovery center operated by a U. S. Army Chief Warrant Officer and Special Forces Ranger paralyzed by sniper-fire in Afghanistan, Romy Camargo, and his wife, Gaby.
This grant will not only pay for one year of highly specialized therapy at Stay In Step, but also training for an adaptive-driver education certificate, vehicle hand-controls, a permanent wheelchair ramp, and Christmas gifts for her children.
And once Richmond's certified to operate a vehicle with hand controls, the Ohio Victims of Crime Compensation Program will buy her a new car. Then she can pursue her dream of visiting schools and educating children about consequences of gun violence.
"I'm so very thankful and feel so blessed by all of this," said Richmond. "Yes, I want to walk and drive again, but I also want to help other victims of shootings, recently-injured spinal-cord patients, and families who've lost loved ones to violence."