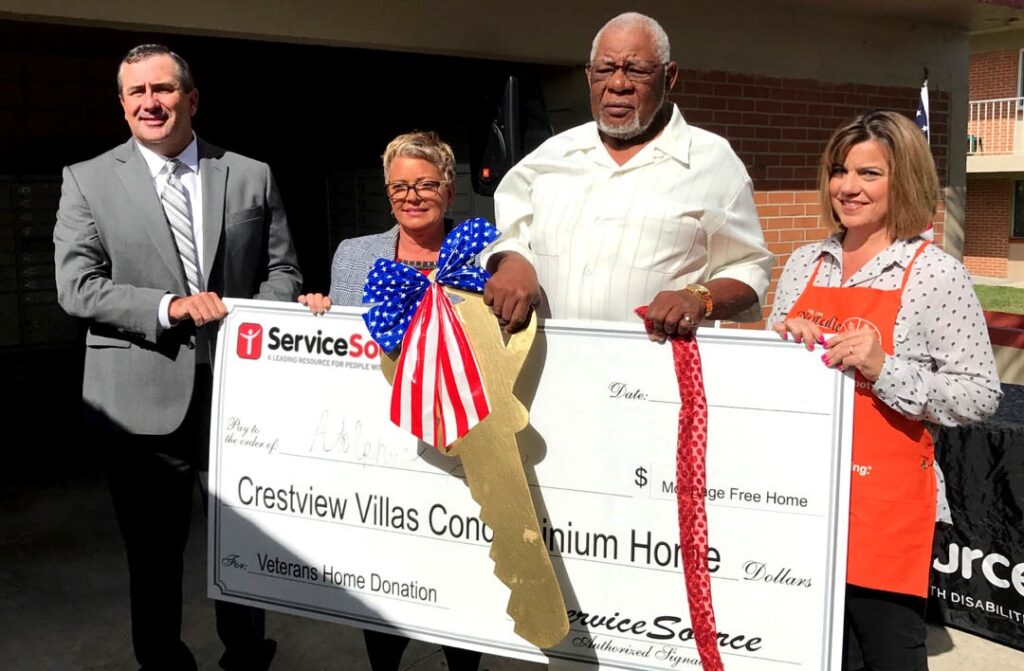 On November 1, U. S. Army Vietnam War veteran Adolphus Jones, 72, accepted the keys to a fully-renovated, mortgage-free condominium at Crestview Villas in Cocoa, Florida.
The ceremony began with a Presentation of Colors and the National Anthem courtesy of the Patrick Air Force Base Honor Guard, followed by distinguished guest speakers.
Grant Collins, a combated-wounded Marine infantryman and program manager of ServiceSource's Warrior Bridge program, congratulated Jones and spoke with pride of the success we've had in helping veterans, especially those from the Vietnam era, reintegrate into their communities.
Melbourne The Home Depot Store Manager and Team Depot Captain Natalie Glywasky, who's overseen the renovation of 13 veterans housing units at Crestview, officiated the giveaway for a third time.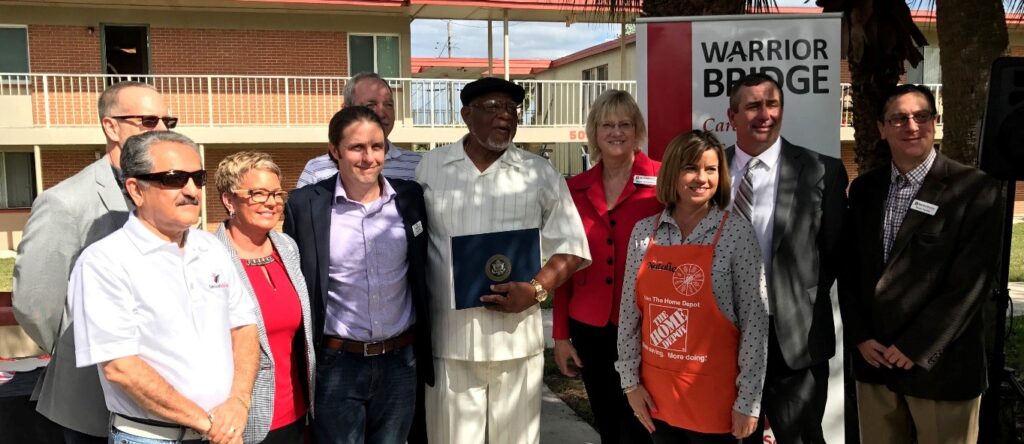 "I love this community and greatly appreciate how ServiceSource and Home Depot continue to partner to strengthen and enrich it, especially for veterans with disabilities," Glywasky said. "On behalf of the ServiceSource board of directors," she told Jones, "I'm honored to represent Home Depot and hand you the keys to a Crestview Villas condominium."
Representing U. S. Congressman Bill Posey (District 8, Fla.) was Director of Community & Military Relations and U. S. Marine Corps veteran Rob Medina, who lauded Jones' military service and sacrifices during the height of the Vietnam War and presented him with an American flag the congressman had flown over the U. S. Capitol.
Chief of Police Major Michael Cantaloupe thanked ServiceSource for its contributions to the City of Cocoa, and warmly welcomed Jones to the community.
Jones thanked Housing for Homeless for recommending him and ServiceSource for the gift of a home. Jones made it very clear how proud and appreciative he was of this donation.