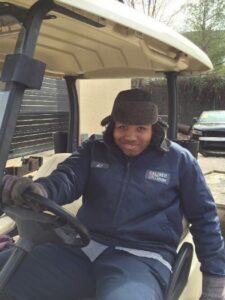 The FrameWORK for Success School-to-Careers Transition Program is provided by ServiceSource Delaware (SSDE) in collaboration with the New Castle County Vo-Tech School District and the Brandywine School District. For students enrolled, the transition from school to work occurs in a support system that provides individualized attention, nurtures confidence, and fosters strong bonds at every step of the process. The more trust students have in the process, the more likely they will be successful at each program stage right up to landing that first meaningful job. In the process an Employment Consultant (EC) helps students discover their potential and see the relevance in putting maximum effort into every work assignment. EC's build strong relationships with students, address barriers to employment and other risk factors, teach problem-solving strategies, coordinate services, maintain clear channels of communication with and between employers and students, and deliver highly personalized supports.
Third-year student in the FrameWORK Program, Adonis (AJ) Sullivan, trusted in the process. From the outset, he demonstrated qualities staff identified as lining up with long-term success: quick and willing learner, eye for detail, dependable, actively sought out assignments, accepted feedback. Because of these factors demonstrated in the assessment phase of the program, AJ was confidently advanced to a custodial assignment on a ServiceSource State set-aside janitorial contract at the Carvel State office building in downtown Wilmington.
EC Erin Doordan recalls, "AJ was challenged by the new routine and diligently worked at meeting the more demanding job expectations. In time, we recognized that he could advance in his career. When a job within walking distance of his home at Caliber Collision came up, he was more than willing to explore a career change."
AJ performed a week-long "working interview" with Bear-based Caliber Collision, America's largest collision repair company. He did this in the afternoons after leaving work at the Carvel building. FrameWORK staff helped with the job training and supported his transition in the hiring process. For two hours each day, he removed trash; recycled scrap metal and plastic removed from the damaged automobiles; and worked with the parts department to deliver new parts to the seventeen repair bays while learning to drive the company golf cart on site.
AJ accepted Caliber's job offer just before Christmas and promptly gave his two-week notice at Carvel. SSDE staff assisted in the transition and provided additional support to AJ as he adjusted to his new schedule and new expectations.  AJ remains in the FrameWORK program through August of this year. Staff visit him regularly to assess his progress and address any questions or concerns.