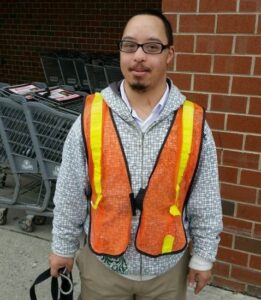 22-year old Phillip Scruggs has found a lifestyle balance that's working for him, one in which just the right amount of time is being allotted to activities that express his priorities. For Phillip, balance consists of a 16-hour work week (4 four-hour days) as a cart pusher at the Bear-area ShopRite complimented with two days of social activities with his friends at the ServiceSource Delaware (SSDE) Riverfront Community Center.
While a student in the Wallin School Integrated Adult Vocational Training Program, Phillip had proven himself to be a team player with a positive attitude who willingly accepted responsibility to work with others to get the job done. Subsequently, he was referred to SSDE for Supported Employment and Job Placement Services by the DE Division of Vocational Rehabilitation. SSDE Employment Consultant Ed Monson recalls, "When I began working with Phillip early last year, I looked to build on these strengths in our job search. As we moved forward, he did very well on assessments at Janssen's Market and Walgreens that highlighted his engaging personality with customers and can-do attitude. I was confident this affability would prove to be an invaluable asset in an employment situation. Today, Phillip is one of a three-man cart crew at a very fast-paced ShopRite store. Store management thinks highly of his enthusiasm and willingness to assist shoppers if help is needed to put groceries in the car. Sixteen hours is just the right schedule as he sees it."
But having a job and the pay checks that come with it weren't the total package for Phillip. Tamika Jones, Riverfront Program Manager notes, "I believe Phillip's personal goal is to stay connected with his friends here while enjoying the benefits of being employed. Bingo and all our outings, especially bowling and Bible study at the Jimmy Jenkins Center, are at the top of his list. He also enjoys volunteering at the Jewish Family Service Center, where he helps stock their pantry with items distributed to the needy." The Riverfront Community Center is funded through the Delaware Division of Developmental Disabilities Services.
For Phillip, ServiceSource offers the right options. Its diversity affords both the structure to accommodate his social pursuits at the Riverfront program while the Job Placement program provides the follow-along support to maintain employment at ShopRite.