ServiceSource Delaware held its 24th annual awards dinner at the Chase Center on the Riverfront on November 9th. Over 280 people attended the event which was highlighted by the presentation of the 2016 Founders Award to United States Senator Tom Carper. Throughout his career in public service, both at the federal and state levels, Senator Carper has fought for what he believed to be right and has been has been a formidable advocate for all citizens with disabilities. In 2014, Senator Carper was recognized by Source America as an AbilityOne® Congressional Champion because of his support of the AbilityOne program, which employs nearly 50,000 people with disabilities nationwide. On a local level, he has maintained a long-term, active partnership with ServiceSource Delaware.
All ServiceSource program participants are valued assets of the organization. Their individual and collective achievements support and sustain our mission. Among them each year though are many who perform exceptionally. Eleven such individuals (pictured below) were honored for rising to that level.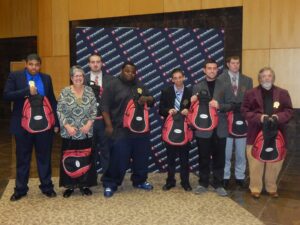 Two other major awards were presented. The 2016 Community Placement Employee of the Year Award was presented to Nick Stokes, a front-end attendant at the Pike Creek Shopping Center ACME.
2016 AbilityOne Employee of the Year Award
And the 2016 AbilityOne Employee of the Year Award was presented to Irek Jozwiak, a contract close-out technician on assignment with ServiceSource at Ft. Detrick, Maryland.
Employer of the Year Award
A Mother's Touch Early Learning Center was presented the Employer of the Year Award. Proprietor, Esther Garnett, has opened the doors of her daycare center for student assessments, internships and employment. There are as many as six students on assignment there during any one week interacting with the children in both the Infants and Toddlers sections.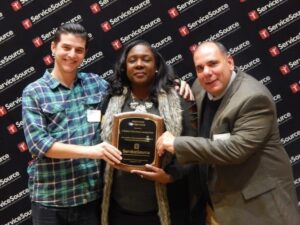 Community Partner of the Year Award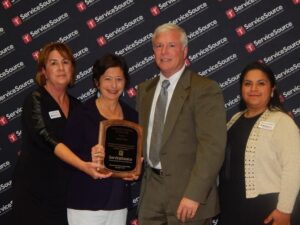 $tand By Me® was presented the Community Partner of the Year Award. In 2015, to increase the capacity of Delawareans with disabilities of all ages to achieve greater financial self-sufficiency, ServiceSource Delaware and $tand By Me® established FinanceABILITY, which integrates benefits counseling within the acclaimed $tand By Me® financial coaching program. Since FinanceABILITY started, over 500 people with disabilities have benefitted from these services. The State of Delaware and the United Way of Delaware partnered to develop and implement this newest division in the Delaware Department of Health and Social Services in 2011.
Volunteer of the Year Award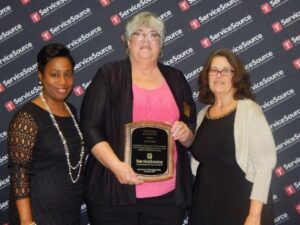 Lynn Lemon was presented ServiceSource Delaware's first ever Volunteer of the Year Award by (l) Riverfront Center Program Manager Tamika Jones and (r) ServiceSource Delaware Assistant Director of Employment Services Suzanne Cash. Lynn has been a key volunteer providing tutoring services to participants with developmental disabilities in our year-old Riverfront Day Habilitation Program, who want to learn how to improve upon their reading, writing and basic computer skills. Lynn tutors five program participants weekly.