ServiceSource kicked off its celebration of Veterans Day 2016 by donating a mortgage-free, completely renovated Crestview Villas condominium to U. S. Army veteran Kenneth Hill.
Following a Presentation of Colors for the National Anthem by the Patrick Air Force Base Color Guard were guest speakers ServiceSource board of directors chair Paul Thieberger, City of Cocoa chief of police Michael Cantaloupe, and U. S. Army Iraqi war veteran and AbilityOne Speaker's Bureau representative Scott Owens.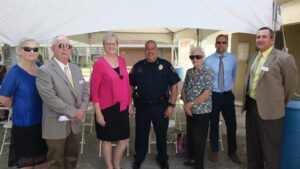 The two-bedroom condo was the second of eight that were fully renovated with $50,000 in grants from The Home Depot Foundation and pro-bono labor from 100 store employees who volunteered time on their days off.
Presenting Hill with the keys to the condo was Home Depot store manager and Team Depot district captain Natalie Glywasky, who championed and orchestrated all eight renovations. "It's very rewarding to partner with ServiceSource, a nonprofit that values and provides veterans with disabilities with affordable housing that is accessible, safe and secure, said Glywasky. "But It's even more gratifying when that organization makes the 'American Dream' come true by donating a mortgage-free home annually to a veteran with a disability, especially during this season of giving."
"My wife and I are very grateful for this donation," said Hill. "I thank ServiceSource, Home Depot, and all of you on behalf of my family."